Achieve Efficiency with a Motion Sensor Bulb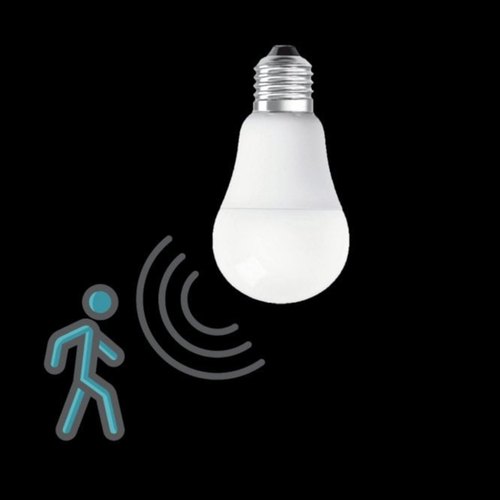 Do you ever get stressed about leaving the lights on when you leave your house or coming home at night? A motion sensor light bulb is here to help bring some smart technology into your home. With this intelligent light bulb, you can rest easy, knowing that your lights will automatically turn off when you're not in the room.
If you accidentally leave them on and walk out of the room, they'll turn off as soon as you leave. The motion sensor bulb can help reduce your electricity bills while ensuring all your bulbs are operating efficiently.
Setting your own smart motion sensor and light combo has never been easier. Just pick your favorite smart motion sensor and smart light combo, then pair it with a smart home hub to enable full home automation, cameras, and more.
What is a Motion Sensor Light Bulb?
A motion sensor light bulb is an intelligent light bulb that turns on when it senses movement in its proximity. The motion bulbs are useful in security systems, outdoor lighting systems, and specific spaces.
Why a Motion Sensor Light Bulb?
A motion sensor light bulb gives you the power to save energy costs, improve safety and security, and add convenience to your life. In addition, they are easy to install and programmable. For example, a motion sensor bulb will turn on when you come home at night or when someone enters a room in its focus line.
It will also turn off when there is no movement for a preset period or if the room is empty. You can control your smart lights via your smartphone, tablet, or PC.
How does it work?
When the motion sensor light bulb detects movement, it turns on and goes off after a specific time. It offers many benefits, including keeping your home safe and secure at night by scaring away intruders or animals by turning them on unexpectedly. It also helps in the hallway when walking to the bathroom at night.
The best way to get the most out of a motion sensor bulb is to use it in conjunction with a smart bulb. As a result, you will reap the benefits of both the sensor and the bulb, and you won't worry about leaving lights on in your house.
You can turn off all your lights when you leave for work in the morning and select which ones will come on when you return home at night. They are great for reducing energy consumption because they do not require any wiring installation other than screwing into existing sockets like regular incandescent or CFLs.
Choosing the Best Motion Sensor Light Bulb
In choosing the best motion sensor light bulb for your needs, it's paramount to consider the following features:
Sensor Type
Motion sensor bulbs generally use two types of technology to detect motion in a room: a passive infrared (PIR) sensor and a microwave sensor.
Both effectively detect motion within their range but have their pros and cons. PIR sensors work best in smaller rooms or areas with obstacles where movement is limited. Microwave sensors can detect movement through walls and across larger areas better than a PIR.
Light Type
Motion sensor light bulbs are available in LED or CFL options. LED produces very little heat relative to its energy consumption yet gives off bright light for its size. Most LED lights also last for many years before needing replacement, so you're saving money on your utility bill and replacement costs.
Bulb Type
The shape of your bulb is essential when selecting your type of motion sensor bulb because it determines the type of fixtures that supports the bulb.
Sensor Range
The range at which your motion sensor detects motion will depend on its use, where you place it in your home, and the kind of technology in the bulb.
Benefits of Motion-activated LED security lighting
A motion sensor light bulb can help by saving you money, protecting your home and property, and even helping the elderly or the disabled live more independently. 
Here are a few ways that motion sensor lighting can come in handy:
Protect your home from intruders with security lights that trigger when someone enters an area of your house. The bulbs will deter any would-be burglars from sticking around long enough to do any damage or steal anything.

Save energy by using LED bulbs with built-in sensors, so they only turn on when needed.

Help people who are ill or disabled live more independently as lights will automatically go on when they enter a room.
Conclusion
It can be stressful to be away from home for long periods, for example, when on vacation or business trips. Not with a motion sensor light bulb. You can turn any lamp in your home into a smart lamp that will turn on and off whenever someone nears. You can save money, improve security and privacy, and reduce stress by automating many of your household tasks with the proper home devices.
Related Resources
Motion Sensor Light Switch
Pir Motion Sensor
door lock
Chamberlain Garage door Opener
Automatic door
Safe alarm
Chamberlain Liftmaster Formula 1
Setup wizard