Enjoy the Convenience of a Motion Sensing Light Switch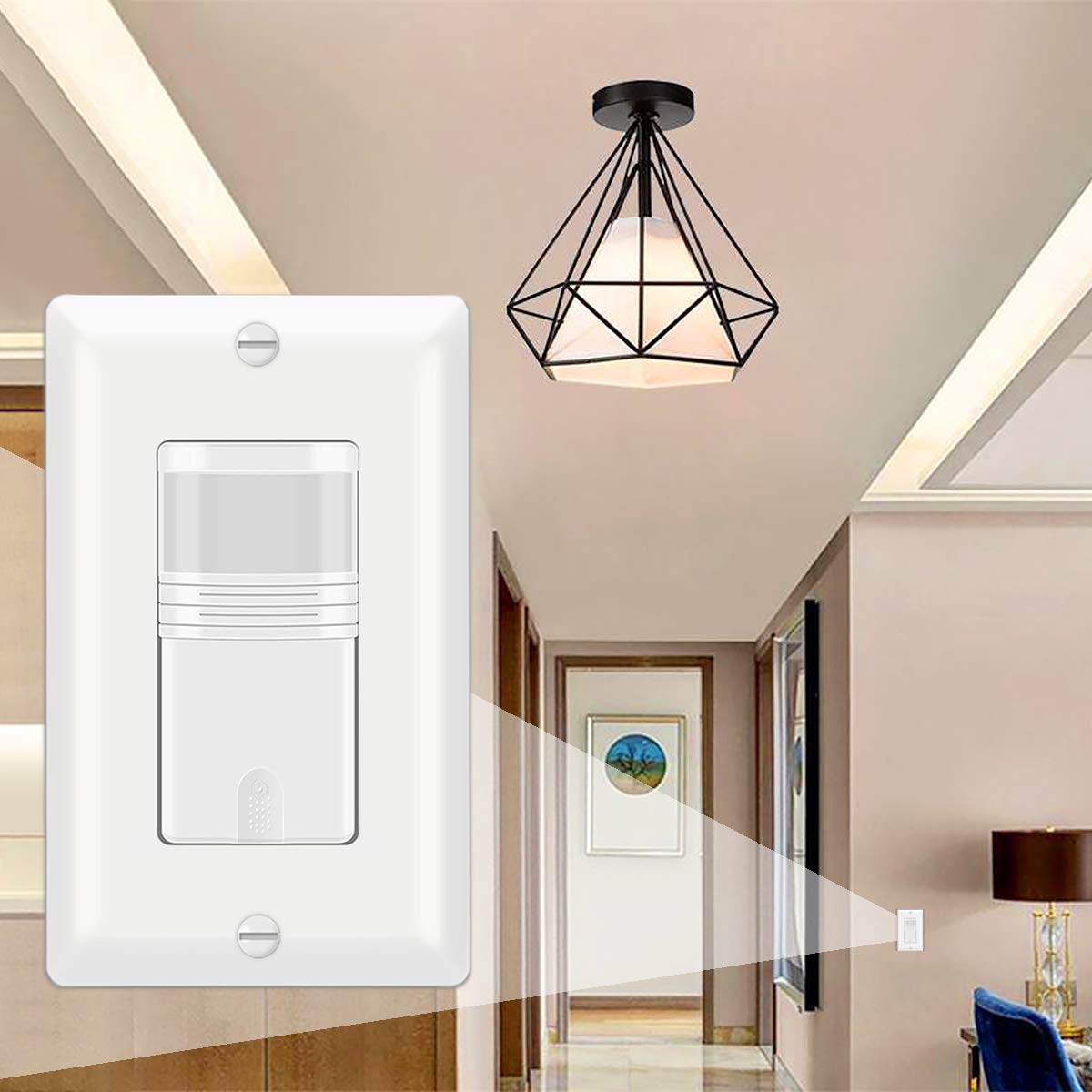 It's no fun fumbling around for a light switch in a dark house. It's equally inconvenient for those who struggle with regular switches, such as seniors or persons with mobility issues. A motion sensor light switch is the solution to this problem. When someone enters the room, the lights turn on automatically.
Choose from our wide range of connected smart home sensors in our shop. Also get a Smart Home Hub, to enable full home automation, cameras, and more.
What is a Motion Sensor Light Switch?
Motion sensor lights add a sense of security to any property. Since it turns on only when movement is detected and shuts down after a preset time, its periodic design can bring down a rising electricity bill. To meet various needs, the lights are powered by batteries, solar panels, or electricity.

A motion-sensing switch is a device that detects movement in a room and automatically turns on the lights. A motion sensor light switch is particularly useful in the bathroom, staircase, or hallway at night. You can find motion-sensing lights that will fit in with any home decor style, and the installation is simple enough that anyone with basic DIY skills can install one.
With a motion sensor light switch, you can:
Turn on lights when entering a space.

Save energy by having lights turn off automatically when you leave

Use the motion sensor to trigger other devices, like a fan or an air purifier

Have the motion sensor trigger an alarm

To help you see in the dark
Types of Motion Sensor Light Switches
There are two types of motion sensor switches:
PIR or Passive Infrared Sensor
PIR or Passive Infrared Sensor
PIS works by sensing changes in heat emanating from your body. If you set it up on a wall, it will pick up your movements and turn on the lights when it senses a nearby target. It's helpful in stairways, garages, and backyards because it minimizes fumbling around in dark places.
Microwave Sensors
Microwave sensors work by sensing the movement of objects within their range by emitting microwaves that bounce back or go through those objects. These sensors are suitable for areas with high ceilings because they can detect motion over a more expansive space.
Features of a Motion Sensor Light Switch
Motion light switches are an excellent option for homeowners looking to upgrade their home's lighting system, and most of them offer these key features:
It automatically turns on at dusk and off at dawn when no motion is detected 

It works with your existing system

It does not use a lot of energy 

They're cheap

Easy to install.
The Benefits of a Motion Sensor Light Switch
Motion sensor light switches serve critical purposes, including improving security, enhancing curb appeal, and saving energy.
1. Safety
They help you avoid falling on a dark staircase or tripping over something in your entryway when you come home late.
2. Security
They secure your home by turning lights on when someone enters your property, whether that person is a burglar or an innocent passerby, making it easier to spot suspicious activity.
3. Convenience
Motion-sensing light switches let you control electrical devices, including lights and plugs, with an app on your smartphone. They save on energy costs and ensure your house appears the way you want when you get back home at night.
4. Savings
They help you save money by turning lights off when they're not needed. Lights that automatically shut off after a specific time can help lower your electricity bill.
5. Save Time
The motion sensor light switch turns on automatically when you walk into a room, so no more running around blindly in dark bathrooms or laundry rooms where you might not have a free hand to switch on the light.
Choosing a Motion Sensor Light Switch
When procuring a motion sensing light switch, here are some things to keep in mind:
You can find motion sensors that are either hardwired or wireless. Hardwired sensors require electrical wiring in the wall, while wireless ones use batteries.
You may want to determine whether you want a switch that automatically turns lights on and off or has manual override capabilities. Automatic switches sense motion and turn lights on and off accordingly, while switches with manual override allow turning on and off manually by flicking a switch.
Your sensor should have an adjustable range feature that allows you to customize the distance at which it will become activated.
Consider the space of the target area and how much coverage you need. For this reason, a regular room-sized sensor may be enough for your needs, but if you have a warehouse, you may need to consider an advanced sensor with additional features.
Conclusion
You will know why motion sensor lights are so helpful if you've ever tried to find your keys in a dark house only to realize that you left them on the counter. The lights turn on when you walk into the room and stay on until you leave.
Getting a motion light switch can be a lot of fun. You're choosing to save a ton of money on your energy bill to make your home more secure and futuristic. Motion sensing lights have a wide range of applications. If you want to set up outdoor lighting for safety, or if you want to add some fun or convenience to your indoor lighting, a motion sensor light can do the trick.
See Also
Motion Sensor Light Bulb
Motion Sensor Monitor
Motion sensor light
Chamberlain Garage door Opener
Automatic door
Safe alarm
Chamberlain Liftmaster Formula 1
Setup wizard